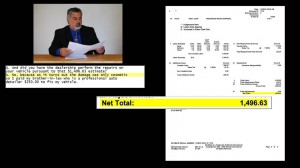 Trial Technicians, Software Consulting and Training Services:  VideoTrack  will work with you to create a highly effective visual evidence presentation tailored to your case.  We take into account the evidence to be presented, the tribunal being presented to, your budget and — most importantly — your personal style.  We are trial support specialists who can help you convincingly convey your story and add visual interest to even the driest of evidence.
Experienced "hot seat" trial technicians with 20+ years of trial experience
Trial software support,  Tablet/iPad Apps, SanctionTM, TrialDirectorTM, VisionaryTM, PowerPointTM, KeynoteTM
Graphic design, photography, timelines, demonstrative evidence, exhibit boards
Digital presentations for client meetings, witness preparation, arbitrations, mediations and settlement conferences, and for providing to co-counsel, corporate counsel and expert witnesses
Mock trial/focus group facility and services
Deposition Services
Video Depositions
Trial Technology Consulting and Presentation Equipment Rental Services:  Confused about how to effectively present your evidence at trial, mediation or arbitration?  We'll review with you the technology available and provide the software and equipment  you decide upon for your case and your style.  With hundreds of trials behind us, in venues across the country, we are adept at working with Court staff to make sure all protocol is followed. VideoTrack is a trusted name in San Diego for Trial Support.  We ensure  the equipment is unobtrusive and convenient, so that you feel comfortable using it.  Simply put, we provide you with equipment and presentation techniques you can rely on.
High-lumens LCD projectors and projection screens
Flat screen monitors in a variety of sizes and stand heights
Document cameras (aka ELMOs) and whiteboards
Amplified speakers
Switchers, splitters, distribution amplifiers
Windows PC, Mac, Tablet/iPad, Apple TV/Airport connections
Equipment carts, stands, cabling and power sources
Consulting on using and supplementing court-installed equipment